French Doors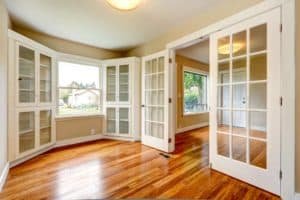 The door that leaves everyone gasping in the streets of Paris is an excellent alternative if you're looking for beautiful and unobstructed views for internal or external purposes. With all the types of door material and design options, it's guaranteed you'll find the perfect French door for your home.
What Are French Doors?
French doors are also known as French windows, precisely because this elegantly styled door sheds plenty of good lighting and ventilation into your home, just like a window. These doors are commonly found in pairs, use hinges and are best known for lighting and opening up space with elegance. 
They mainly consist of glass planes throughout the length of the entire door Perth. It is a great alternative to add this stylish gateway to many parts of your home, and if you'd like to use it as the main entrance, the best idea is to use secure and toughened glass to offer better protection.
What Are French Doors Made Of?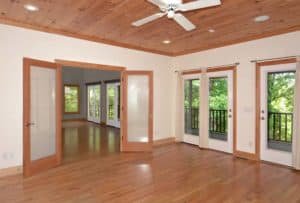 French doors are constructed as a hinged door and open typically in swing mode, inwards. As they come in pairs, both panels can open fully and are very operable. For the locking system, there are plenty of options, but the most common is the use of bolts on each door, usually placed at the upper and lower parts. 
As for the handles, even though a conventional handle is a popular choice for these types of doors, fancier handles are an alternate option. A good idea is to equip your door with weather strips to prevent wind and rain. You can also use double-glazing on your windows or Low-E glass.
These gateways can be made of the same door materials as any other door; fibreglass composite, steel, aluminium, or vinyl. Most often though they are made of wood, primarily because of its aesthetics as it has a natural and more traditional look to it. 
A wooden frame on a French door for your patio, garden, or any other exterior space, requires some care with regards to cleaning and maintenance. As for a steel or aluminium frame, they are sturdier and are wise choices to handle harsh weather conditions. While vinyl, which is plastic based, is cost-effective and doesn't peel or flake. Whatever material you choose will be stylish and practical.
Where Are French Doors Used?
Since these doors are mainly glass, this is a good option for patios or exterior areas; they can bring an extraordinary amount of light inside your house, making them a good source of energy. They can also be used to open up rooms and spaces, giving a dull place a beautiful look and a whole new environment. With this option, you can interconnect your indoor and outdoor living space.
PROS
  Energy efficient

  Great aesthetics

  Lightweight
CONS
  May takes up a lot of space

  Require upkeep depending on the material

  Glass components could be fragile
Why French Doors?
If lighting and proper ventilation are essential in your home, then consider French doors. Wherever your location or the weather near your residence is, choosing a French door will bring you modern design, freshness, and iconic style. Made from a wide variety of materials, there is undoubtedly a great option here to match your taste.
MESSAGE US
Get In touch below. Ask Any Question or Start a Free Quote