Sliding Doors
If you like or need different alternatives and you only have small spaces for a door inside your house, a sliding door might be your number one option. Sliding doors can offer you practicality, beautiful views and can be very energy-efficient. 
What Are Sliding Doors?
Sliding doors are very similar to stacker doors and pocket doors. A sliding door acts as a wall as it only takes a short amount of space and slides left to right. The panel uses a rail to slide across from one end of the track to the other, and it occupies minimal space; an excellent option for your house or apartment if this is an issue.
Sliding doors made from glass are an excellent choice for patios, showers, and other interior and exterior areas. As they mainly consist of transparent glass, you might want to consider adding markers so that people don't accidentally walk into them.
What Are Sliding Doors Made Of?
Two hangers hold the panel of the sliding door on rollers. They slide from side to side very close to the wall. They can come in single or double varieties; it mainly depends on your design and the space you have.
If you like the idea of instaling a sliding door for an outside area and decide to use glass, you should consider double glazing or solar window film as glass is a good conductor of heat. Aluminium or timber frames might be a good pick too!
You should consider the material of the panel; if it is too heavy; you might have difficulty in sliding it and might need to repair it more often. There should also be resistant rails and tracks to hold the door firmly. Each sliding panel has stoppers at the end so that the door doesn't slide off. 
You can choose between frames, panel types, and also sizes. It all depends on the amount of space and your personal preferences. If you have a larger area, you might want to consider if a stacker door or bi-fold door is a better option for you.
Where Are Sliding Doors Used?
These types of doors are commonly used in hallways, interior rooms, and closets, but you can find variations for external uses too.
The best asset is undoubtedly no need for space. Sliding doors occupy a short amount of area, making them ideal for even the smallest of rooms. You can also leave them open for entertaining your guests, expanding the area, combining two living spaces, and facilitating people coming in and leaving the property.
PROS
  Easy to operate

  Horizontal clearance only

  Offers lightning and large views

  Doesn't take too much space
CONS
  Clean tracks regularly

  Can easily dislodge
Why Sliding Doors?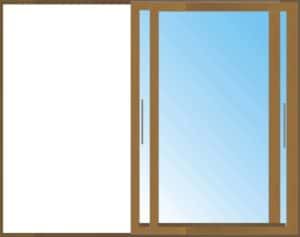 Whether you need a door in a short amount of space or like the idea of having a whole glass door, a sliding door is an excellent alternative for your house. Sliding doors can match your house decoration and provide something really stunning as well as practical!
Message Us
Get In touch below. Ask Any Question or Start a Free Quote