Bi-fold Doors
The installation of folding door system offers a widespread solution for those that have limited space. It's a great alternative from the traditional door, giving you space, practicality and still allow you to have excellent aesthetics. With this option, you can create a different ambiance in a smaller area and occasionally open the doors to a whole new environment.
What Are Bi-fold Doors?
These doors Perth are easy to use gateways; they are flexible and can fill in short spaces for those who don't have enough room for a swinging door. A Bi-fold entry consists of panels held by hinges, which fold up to the middle. There's a rail in which the panels run through when closed or opened. It's a very basic type of door and reminds us of a standard, hinged door, though the difference is that instead of opening to the left or right side, a folding door usually opens along a slide.
Bi-fold doors can have a small handle, or a pull installed right in the middle. Once you open or close the door, all you have to do is slide it to the end. They can also have a locking mechanism, usually a small latch on the top or bottom of the door.
What Are Bi-fold Doors Made Of?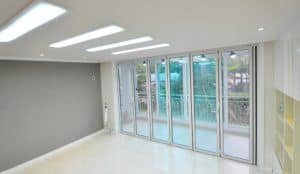 It is common to see bi-fold doors made of timber, but you also find them in aluminium, glass, and PVC. Each door material can give you different qualities to fit your preferences. Aluminium is robust and resistant to any twisting and bending. It's an excellent option for those places in contact with direct sunlight. If timber suits more of your liking, engineered wood is much better than the natural solid timber. It is very sturdy and heavy, and you can have it painted as you desire. And just like timber, PVC is very low maintenance and only needs to be cleaned once every year, and there is no need for painting.
Where Are Bi-fold Doors Used?
Bi-folds doors are commonly used in smaller areas such as small apartments, bedrooms or even bathrooms, closets, laundry rooms or gardens. They are also a great alternative to divide spaces, such as the kitchen from the dining room. Other smart uses are: open up two rooms for parties and give the area more space and lightning or maybe close them up and hide an unsightly mess.
PROS
  Doesn't occupy a lot of space

  Lightweight and durable material

  Practicality
CONS
  May require more maintenance than other doors

  Hinges can get damaged easily
Why Bi-fold Doors?
If you like versatile options for a specific room in your house, being able to adjust lighting and space just through a door, this is undoubtedly the best option for you! There are plenty of material options and great architectural ideas for you to fall in love with and find the best one that matches what you want. Folding doors are an advantage for all those small spaces and areas to make your house even more comfy and beautiful!
MESSAGE US
Get In touch below. Ask Any Question or Start a Free Quote