Front Doors Types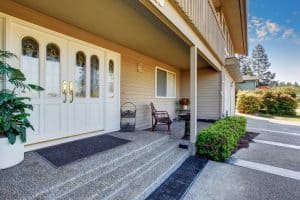 If you are looking for a dramatic or a classic main entrance, the first thing you should do is choose your front door. Your door is the first thing people see when approaching your home. Choosing the right style and functionality of a front door may seem like an easy task, but once you see the options out there, it can begin to be overwhelming.
If you're thinking about buying a new door types for your new house, or looking to replace an existing front door then here are a few things to consider. 
What Are Front Doors?
A front door should be secure as well as inviting. When considering a front door, you should think about functionality as well as what the entrance will say about your home. The front door is the entryway into your house. Many people opt for a solid door, but there are so many choices out there that can really liven up the overall look of your home.
Perhaps you want to consider a window in your door, or maybe you need a door that can open wider to accommodate larger furniture and make moving easier. There are so many options to consider when looking for a new front door.
What Are Front Doors Made Of?
There are so many different types of door to choose from, such as; hinged doors, French doors, Dutch doors, and so many more. And with any of these options, you can still install a security screen door in the front so that you can have even more protection and safety.
Here is a short list of some door materials that are good options to use on your front door.
TIMBER OR SOLID WOOD DOOR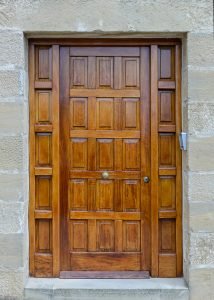 What doors are the most popular choice for most people?                  Wood doors are an excellent pick for interior and exterior doors. There is a good variety of premade wood doors available on the market, or they can be easily custom made by a carpenter. A beautiful look for a front door can be the natural wood look, or you can have your wooden door painted.
Wooden doors come in a variety of styles and functionality. They are also easily maintained and can withstand a variety of elements.
BATTENED AND LEDGED DOOR
If you're looking for a more rustic look, you may want to consider a battened or ledged door. This is an excellent option if you are on a lower budget. Doors can't get any simpler than this option. Although this door may be a cheaper option, it can be a great look for a cottage style or a ranch style home.
FRAMED AND PANELLED DOOR
The mid-century modern look is making a comeback. The framed and panelled door design fits this trendy new style well. You can get a frame door panel door in a variety of materials. Out of all the door designs, this is probably the most common.
FLUSH DOOR
Flush doors are mainly used inside the home, but there are some variations so you can use them on the exterior door. It is a very smooth door and considerably light. The drawback of getting a flush door is they are usually a bit ordinary looking. However, this could be an excellent choice if you're going for a sleek futuristic look for your home. The simple lines of the door can add a very minimalistic look to the front of your home.
GLASS DOOR
A trendy new take on the front door is the glass design. If you look for a beautifu , and classic look and want to let in some natural lighting, glass doors are a great option. The glass should be reinforced so that it is safe. Some doors even offer a stained glass option which, can be a beautiful fit when renovating an older home.
STEEL DOOR
This option is very safe and sturdy. They are economical and quite popular for both interior and exterior doors, where safety is the primary concern.
FIBREGLASS DOOR
As compared to wood and steel, fiberglass is very low maintenance and is one of the most hardened materials. It is robust, stable, and offers excellent insulation properties.
FIBRE REINFORCED PLASTICS DOOR
Fibre reinforced plastic (FRP) is available in many finishes and colours. It has high strength and is a good pick for modern houses.
ALUMINIUM DOOR
Aluminium doors last for a long time, they are quite economical, and they are not prone to be eaten by termites.
BAMBOO-JUTE COMPOSITE DOOR
A good substitute for other door materials, including wood, bamboo is a fast renewable plant that is water resistant, termite resistant, corrosion resistant, low budget, and eco-friendly.
So Many to Choose From
Whether you are on a low budget or you want to splash out on your main entrance door, undoubtedly, here you can find the perfect pick. Security, style, trend, or family considerations must all be taken into account before you choose your ideal front door.
Message Us
Get In touch below. Ask Any Question or Start a Free Quote