Dutch or Stable Doors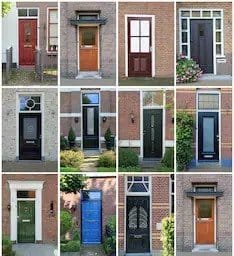 If you're looking for uniqueness than this popular Holland styled door is an excellent opportunity to add a unique touch and personality to your house. A Dutch or stable door is a perfect addition to a rustic style house or Ranch design. These doors are especially popular for kitchen doors, patio doors, or a back door.
Along with their unique design, they are also quite versatile. In this post, we will go over everything you need to know if you're considering investing in a Dutch style or stable style door.
What Are Dutch or Stable Doors?
A Dutch-style door, also known as a stable door, is a classic door design. There are two distinct parts to a Dutch-style door: the bottom half and the top half. Both sections of the door swing independently of each other or together. You can open the top half of the door and leave the bottom half closed. The benefits of having a double swinging door are plentiful.
Many people with children choose to invest in a Dutch door so they can open the house up but still keep the little ones inside. We can say the same with animals. Another significant thing about a Dutch-style door is it can add a small amount of privacy without closing the house off altogether.
A door left wide open invites neighbours and friends to enter your house without knocking. However, the Dutch style doors still encourage unwanted guests to visit; they just need to ring the bell first.
What Are Dutch or Stable Doors Made Of?
We can make these gateways of fiberglass, vinyl, steel, wood, or aluminium. Some materials should be beforehand, as not all are good options depending on the living space. For example, some door materials are more durable and robust than others and will require less maintenance, though hardwood is considered the best choice for this type of door.
If you are looking to purchase a Dutch door, you can add glass window panes, decorative glass, textures or wood-clad finishes with the colours that match your house's decor. You can install them outside or use them for interior rooms.
Stable doors require more hinges than standard doors, and by choosing this type of entry, you can add extra security with deadbolts, handles, and locks. A latch is also a good idea in case you'd like to open the door in a traditional style. These doors are flexible in design, so you can choose the material, the designs, and even the height you would like the halves to be divided into.
Where Are Dutch or Stable Doors Used?
Previously, these doors were used for stables to allow feeding the horses and in farmhouses to keep animals from coming in. Today, we still use them for these purposes, but many modern houses now use Dutch doors to keep their pets from entering a specific room. They are also used to let some light in via the top half and block unwanted mess and dirt from getting in.
Another use is to keep children away from certain rooms, such as the kitchen where there might be dangers. If you live in a secure place or if you have a reliable screening, you can use a Dutch door on your front gateway, this way, you can receive your mail, deliveries or freely open the door without letting your pets escape.
PROS
•    Uncommon feature
•    Great to keep children and pets safe
CONS
•    Not very secure if used for external purposes
•    Requires many hinges
Why Stable Doors?
If you want an unusual feature inside your house but still maintain your personality and style, the Dutch door is an excellent investment. Not only will it stand out, but it will also be great to help you block dust, keep the kids and pets away, but still monitor the other living space and provide excellent ventilation and lighting.
MESSAGE US
Get In touch below. Ask Any Question or Start a Free Quote